Force Urbania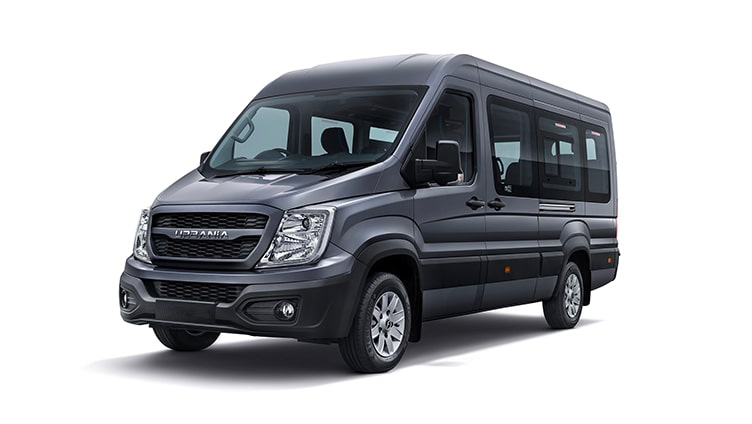 Welcome to Saibaba Travels, your premier destination for luxury travel experiences in Aurangabad, Maharashtra. We are delighted to introduce the all-new Force Urbania, a 17-seater van, exclusively available for booking with us. Designed to cater to larger groups, including corporates, our Force Urbania offers an unparalleled blend of luxury, affordability, and comfort. It's the perfect upgrade from regular tempo travelers, ensuring a more spacious and luxurious feeling for your journey.
Why Choose Saibaba Travels for Force Urbania Rental in Aurangabad?
Unmatched Luxury and Comfort: Experience a new level of sophistication and opulence with our Force Urbania rental. The spacious cabin provides ample room for all passengers, allowing them to relax and enjoy the journey. The van is equipped with individual AC vents, ensuring personalized climate control for everyone on board. With large windows offering panoramic views, you can revel in the beautiful landscapes of Maharashtra.
Superior Safety Features: At Saibaba Travels, your safety is our top priority. The Force Urbania comes equipped with advanced safety features, including ABS (Anti-lock Braking System) and wheel-ventilated disc brakes. These features guarantee a secure and worry-free journey, giving you peace of mind throughout your trip.
Entertainment at Its Best: To enhance your travel experience, our Force Urbania boasts a state-of-the-art surround sound system. Enjoy your favorite music or watch movies on the go, making your journey enjoyable and entertaining. We believe in providing the best entertainment options to make every moment memorable.
Hassle-Free Booking: We understand the value of your time, and that's why we have streamlined our booking process. With Saibaba Travels, you can easily book the Force Urbania online through our user-friendly website. Simply select your desired travel dates and destination, check availability, and confirm your booking. It's a hassle-free and quick process, saving you time and effort.
Transparent Billing System: We believe in maintaining transparency with our customers. Our billing system is straightforward, ensuring that what you see is what you pay. We offer all-inclusive, lowest rates in Aurangabad, Maharashtra, with no hidden charges or surprise bills. We value your trust and strive to provide a seamless and transparent booking experience.
Exceptional Customer Service: Saibaba Travels has been a trusted name in the travel industry for years. We take pride in offering end-to-end value-added services that go beyond customer satisfaction. Our dedicated customer care team is always available to assist you, ensuring your journey is smooth and memorable.
Whether you are planning a corporate outing, a family getaway, or a trip with friends, our Force Urbania rental is the perfect choice for luxury travel in Aurangabad and Maharashtra. It caters to larger groups, offering affordability, comfort, and a touch of elegance. Book with Saibaba Travels today and embark on a journey where luxury and convenience meet. Experience the best of Aurangabad with our Force Urbania rental.
Ready to embark on a luxurious journey through the captivating landscapes of Aurangabad and Maharashtra? Why settle for ordinary when you can elevate your travel experience with our Force Urbania rental? Book now with Saibaba Travels and discover a whole new level of comfort, space, and entertainment. Are you ready to indulge in the ultimate luxury travel experience?
Equipped Cars &
Professional Drivers
We take extra care to maintain our fleet of cars for
your comfortable journey.
Meet the fleet
From Economy cabs to spacious buses, choose your perfect ride
Hatchback

Light on your pocket, good at comfort.The best of both worlds.

Choose among 4+1 seater options

Sedan

Top models for you and your luggage to travel comfortably.

Choose from economy and premium sedans

SUV

Assuring that space would be the least of your worries.

Choose among 4, 6 and 7 seater options

Buses

Travelling is always the most fun when we're all together.

Choose from 10 to 50 seater buses
Quick Enquiry Form
Fill this form with your travel query and we will get back to you at the earliest!