Ellora Caves tourist information
These are a series of 34 caves extending up to 2Kms located near the village of Ellora, Northwest of Aurangabad. The caves are carved from Basalt rocks depicts Buddhist, Jain and Hindu cultures. Ellora caves were named a UNESCO World Heritage Site in 1983. It contains carved monoliths and halls with stairs, doorways, windows, and numerous fixed sculptures. One of its best known is a scene of Vishnu transformed into a man-lion and battling a demon. There are also some erotic representations of Hindu divinities and mythological figures in the vicinity. The annual Ellora Festival of Classical Dance and Music is held there in the third week of March. The major attraction is the Cave 16. It is more of a temple than a cave dedicated to Lord Shiva. Ajanta Caves built on the similar monolithic style of architecture is situated 100 km from Ellora Caves. You can rent a taxi or a luxury bus to get a packaged deal of visiting both Ajanta and Ellora caves in a day! Also, check our Ellora Caves tour package below.
Destination Information :-
Climate: Tropical(24.1 °C)
Popularity: Temples, Caves
Best time to visit: September-May
Famous Cuisine: Naankhaliya(Naan bread with mutton curry)
How To reach There :-
Nearest Airport: Nearest Airport - Aurangabad Airport / Chikhalthana Airport (IXU)

Nearest Railway Station: Nearest Railway Station - Central Railway - Aurangabad Railway Station (AWB)

Nearest Bus Station: MSRTC Buses or Rental Taxi and buses
Places to see around
Ellora Caves (Verul Leni)
Buddhist
Buddhist caves To the south of Ellora caves is a series of caves 1-12 dedicated to Buddhism. Built during the 7th Century believed to be the caves that were built first but failed to prove the facts. The main cave in the series of Buddhist caves is Cave no. 10 also known as Vishvakarma Cave or Carpenter's Cave. In the main stupa hall lies a 15 feet statue of Buddha and is dedicated to prayer among all the other caves.
Location Type
-
Caves
Distance from Ellora Caves (Verul Leni)
-
0 kms
Timing
-
9 A.M. to 5 P.M.
Entrance Fees
-
Inclusive in Rs.10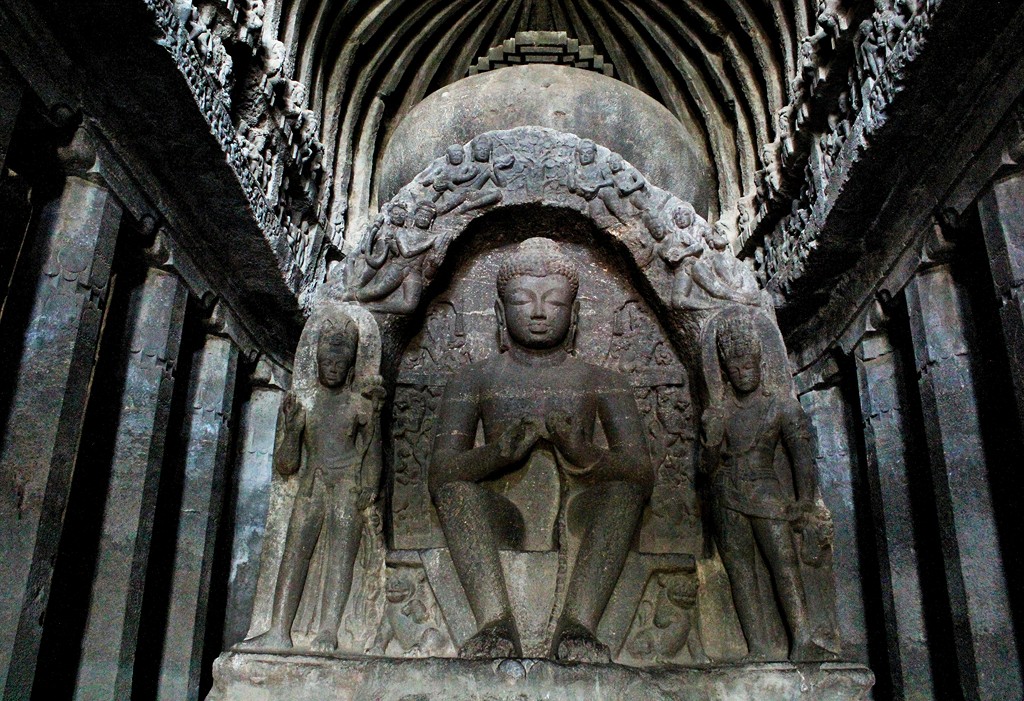 Hindu Caves
The Hindu caves consist of caves 13-29 built during the Rashtrakutra period. The main attraction is cave no. 16 also known as Kailasa Temple. The temple is carved out of one single rock and is the world's largest monolithic cave temple. The construction of the temple started from the top of the original rock. The chief architect of the temple was a man named Kokasa and it took him 18 years to complete the construction. The Kailasa temple was built by 8th Century Rashtrakuta King Krishna I and was meant to be a lookalike of Mount Kalish, assumed abode of Lord Shiva.
Location Type
-
Caves
Distance from Ellora Caves (Verul Leni)
-
0 kms
Timing
-
9 A.M. to 5 P.M.
Entrance Fees
-
Inclusive in Rs. 10
Jain Caves
To the north of the Ellora caves are a series of caves 30-34 dedicated to Jainism. These caves were excavated in the 9th – 10th century. Cave 30 known as Chota Kailasha is similar to the version Kailsaha Temple Cave no. 16. Cave 32 also known as Indra Sabha which contains two huge statues of Lord Indra depicting his dancing poses. The walls of the cave also depict different dancing positions of other deities too.
Location Type
-
Caves
Distance from Ellora Caves (Verul Leni)
-
0 kms
Timing
-
9 A.M. to 5 P.M.
Entrance Fees
-
Inclusive in Rs. 10
Frequently Asked Questions
Quick Enquiry Form
Fill this form with your travel query and we will get back to you at the earliest!
Let's plan your customised tour. Contact us now!
Best time to reach us directly is between 8 am and 8pm IST