Welcome to Saibaba Travels, the leading car rental service provider in Sambhajinagar (formerly known as Aurangabad). We take pride in providing exceptional services to our customers who wish to explore the city and its surrounding areas in comfort and style.
The name change of Aurangabad to Sambhajinagar is a significant event that highlights the rich history and cultural heritage of this region. The city was renamed after the great Maratha warrior, Sambhaji Maharaj, who was the son of the legendary Chhatrapati Shivaji Maharaj. The name change has been welcomed by the local community and signifies a move towards preserving and promoting Maratha heritage.
At Saibaba Travels, we offer a wide range of car rental services that cater to the needs of both tourists and locals alike. Whether you want to explore the city's historical monuments or travel to nearby tourist destinations such as Ellora and Ajanta Caves, we have the perfect vehicle for you. Our fleet comprises of well-maintained cars that are equipped with all modern amenities to ensure a comfortable and safe journey.
Our services include airport transfers, local sightseeing tours, outstation trips, and customized packages to suit your specific needs. We have a team of experienced and courteous drivers who are well-versed with the routes and can take you to your destination in the shortest possible time. We also provide 24/7 customer support to ensure that your journey is hassle-free and enjoyable.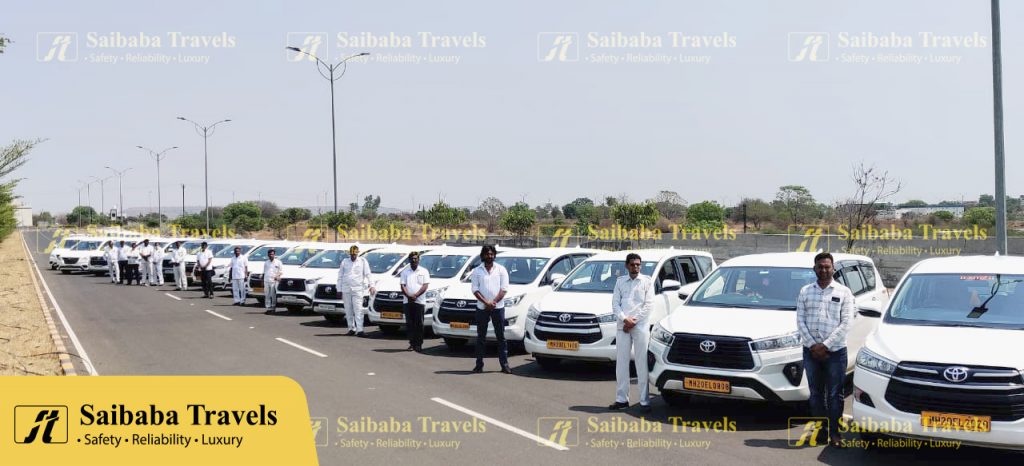 If you're planning a trip to Sambhajinagar, look no further than Saibaba Travels for all your car rental needs. We offer competitive prices, transparent billing, and a wide range of vehicles to choose from. Our services are designed to provide you with a memorable travel experience that will stay with you forever. You can also book a taxi to destinations like Shirdi, Pune, Mumbai, Nashik, Ajanta & Ellora caves, etc. starting from Aurangabad, or the other way round.
In conclusion, Saibaba Travels is your one-stop destination for all your car rental needs in Sambhajinagar. Our commitment to providing quality services and customer satisfaction sets us apart from the rest. So, book your car with us today and experience the beauty of this historic city in the comfort of your own vehicle.
While it will take time for everyone, including us, to get used to the new name; our team at Saibaba travels is welcoming this gracefully!